Top-Rated Auto Repair Center Around Riverview MI
Riverview MI's Leading Auto Repair Center!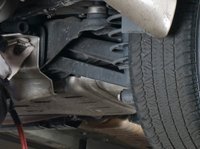 Are you looking for reliable, professional, and affordable auto repair services near you? Well, look no more! Auto-Lab USA has got you covered. We have service stations all over the nation to cater all your auto maintenance, service, and repair needs. For years now, we have been providing the nation with exceptional auto service that comes second to none. We have garnered extensive experience in the field and this helps us understand and rectify your car problems right the first time. That experience when combined with our team of ASE certified mechanics, modern diagnostic machines, and affordability, makes us the ultimate number one all-stop auto shop in the U.S.
Everyone needs an auto mechanic that they can rely on to be knowledgeable, professional, and trustworthy. Auto-Lab is proud to be the car repair shop that our valued customers can turn to for the high level of quality service and affordable rates they expect from us. It's our commitment to uphold the expectations of our customers, that's why we provide fast and reliable auto repair services.
---
Auto Repair Mechanics You Can Trust!
We believe in using proper and very reliable computerized diagnostic testing to locate the source of your car trouble, eliminating the possibility of faulty guess work that can result in further mechanical issues and even more costly repairs. We even take it a step further, providing a full 33-point inspection of some of the most important parts on your vehicle with every service we offer, free of any additional charge.
Not only do we do a computerized diagnostics test on your car, we also offer computerized auto repairs. This combination of service options can locate or correct some of the most common issues in modern vehicles, including:
Complete ignition system diagnostics
Engine code checks
Engine oil light diagnosis
Engine overheating diagnosis
No start diagnosis
Charging system diagnosis
Computer re-flash
Replacement of electronic computers
Replacement of control modules
Computer system repairs
---
We use the latest diagnostic technology---just like you would expect at a dealership---to quickly identify your problem and make the necessary repairs. That helps to keep your expenses down and repair headaches to a minimum. Every repair job we do for you comes with a 12-month/12,000-mile parts and labor warranty. And while your car is under our warranty, you can go to any of our locations to have an issue addressed.
To keep your vehicle in great shape, regular maintenance is also important. Auto-Lab can set you up on a regular, cost-effective maintenance plan that can help you stave off major expenses down the road.
---
Stop by Auto-Lab of Southgate today for Auto Repair services from professional mechanics! Give us a call or make an appointment today!